March 31 2023 Friday Early Release: Elementary 8:15 AM- 2:30 PM FBMS 8:10 AM - 2:45 PM CHS 8:05 AM - 2:35 PM
CHS Athletics- Just a reminder that spring sports photos will be Monday after school in the high school auditorium. Please call (406)748-4699 ext. 4236 with any questions.
NO SCHOOL for students on Friday March 24 2023. Teachers will be participating in PDW

Tomorrow is the last day to get your name on the ballot!! Come see Britney Allen in the District Office before 4pm.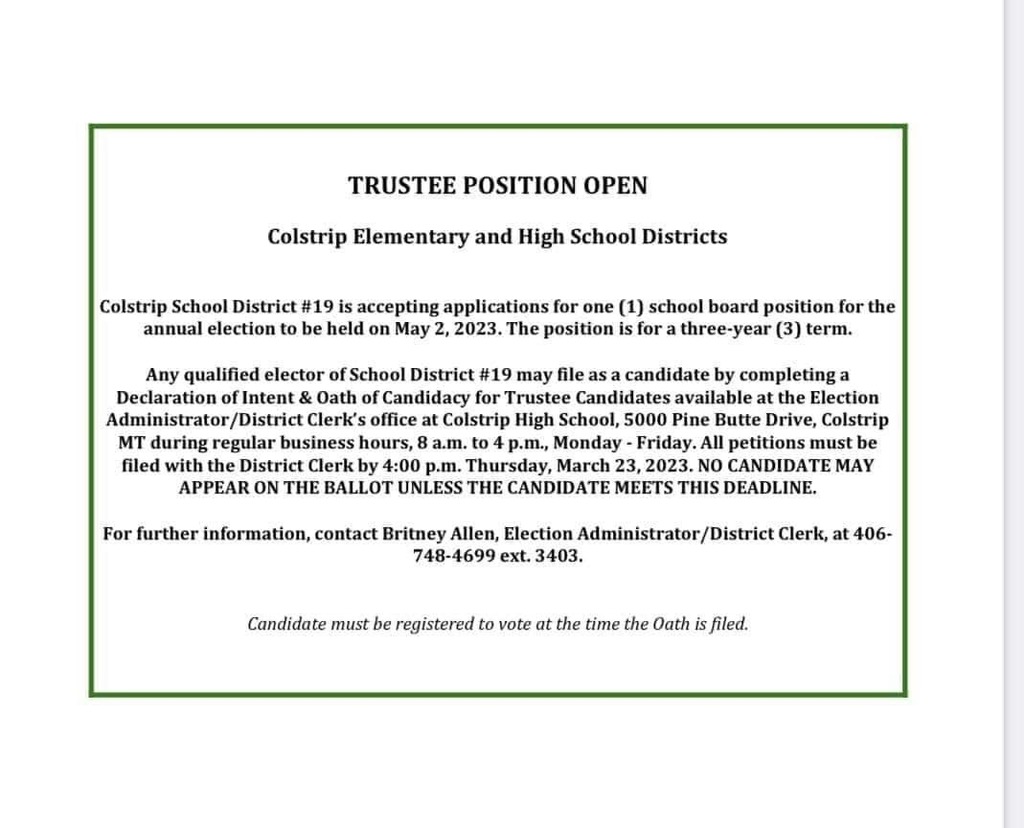 SUPERINTENDENT NOTICE: Notice is hereby given to the governing Board and general public that a regular meeting of the Governing Board for the Colstrip School District #19 will be held Monday March 27, 2023, beginning at 6:00 PM. The meeting can be attended at Colstrip High School in the Lower Level Commons. Entry through Door 24 from the Lower Parking Lot. The meeting can also be attended electronically through Zoom: Join Zoom Meeting
https://us02web.zoom.us/j/86496844641?pwd=dEVFZHR3aldvTFBlaUZDbG5YZXVvUT09

FBMS Track and Field-- Middle school Track and Field practice will be held at FBMS today Wednesday 3/22. There will be no Middle school track practice Thursday 3/23 and Friday 3/24. Go Mustangs!

FBMS Track— Middle school track and field will practice at FBMS today Tuesday 3/21 again. Please pick your athlete up at FBMS after practice. Go Mustangs!
Please join us for the Vaping Awareness Parent Night with Guest Speaker Mr. Robert Hackenson, Jr. The presentation will be Wednesday, March 22nd at 6pm in the CHS Auditorium. "This presentation will give parents the knowledge and resources to help their child make smart and healthy choices around vaping." What will parents learn? *What you can do to prevent their child from vaping. *How to spot if your child might be vaping. *What to do if you catch their child vaping. *And lots more info!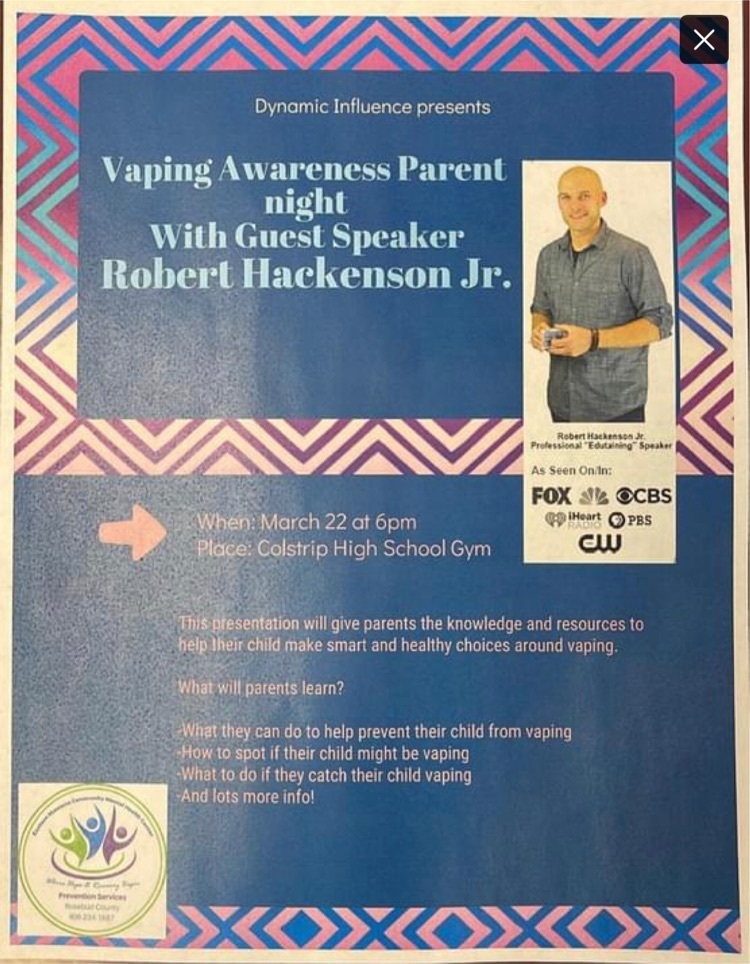 CHS Athletics- Legacy Scholastic Imaging will be taking spring high school sports photos on Monday, March 27th at 3:45 PM in the Colstrip High School Auditorium. Your student can get an order form from the office or you can preorder online at
https://legacyscholasticimaging.com/
CHS PROM Photo information...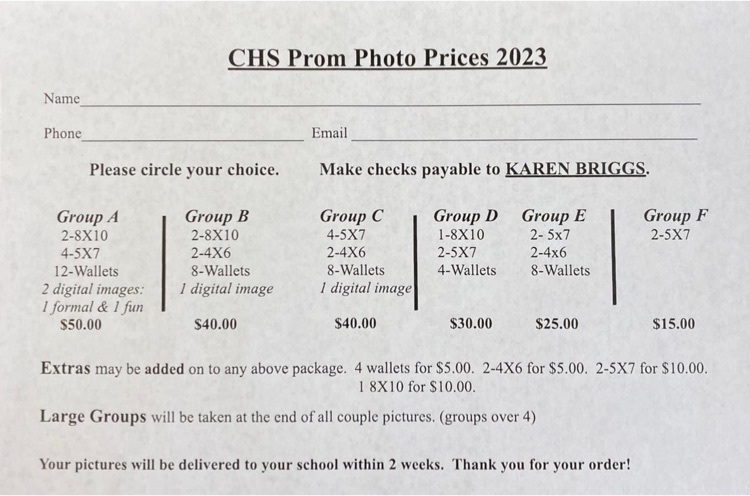 Middle School Music Festival will be held on Wednesday, March 22, 2023 at CHS. This event is open to the public. The 6th grade band will perform at 8:40 am in the high school auditorium. If your student is performing solo or in an ensemble, please reach out to Mr. Croft for information regarding the approximate time your child will be performing. Hope to see you there!

Updated Middle School Track and Field Parents meeting-- FBMS Spring Sports Track and Field Parent Meeting will be held in FBMS gym Monday 3/20 at 6:00 PM. If you have any questions please let us know. Andrew Torgerson, AD 406-740-0862
andrew.torgerson@colstrip.k12.mt.us
March 17 2023 Friday Early Release: Elementary 8:15 AM- 2:30 PM FBMS 8:10 AM - 2:45 PM CHS 8:05 AM - 2:35 PM
Curriculum Director Announcement: Pine Butte Elementary: SCIENCE FAIR VIEWING PARENT/STUDENT NIGHT! WHEN: Tuesday, March 21, 2023 WHERE: Pine Butte Elementary Gym WHAT TIME: 6:00-7:00 pm EVERYONE WELCOME!!
CHS INFORMATION: Colstrip High School was put into a modified lockdown just after lunch today. We use modified lockdowns for various purposes which may include health emergencies, canine inspections and/or other situations as needed. All students and staff are safe at CHS!
Colstrip High School Competes at Academic Olympics 2023 Southeastern Montana high school students challenged one another at the Academic Olympics competition on Wednesday, March 9, 2023 at Miles Community College in Miles City. 120 high school students making up 21 teams were at the competition Representing Colstrip High School and competing as three teams were Seniors: Cooper Muccillo, Kaile Grammer, Whitney Gotfredson, Brooke Burnette, Zadeea Graham, Aakyla Redfox Juniors: Tahveya Matt, Luke Smith, Sophia Blanchard, Ottilia Hadaller Sophomores: Devon Verlanic, Slade Toscano, Cady Wilcox, Wally Iglehart Freshman: Ava Stenulson, Paige Bakich, Jenna Batie Our three teams competed against the other teams for the top combined written score. Team C scored 2nd place and received medals. Team members were Zadeea Graham, Luke Smith, Sophia Blanchard, Slade Toscano, and Ava Stenulson. Team B placed 11th–Cooper Mucillo, Ottilia Hadaller, Wally Iglehart, Jenna Batie, Brooke Burnett, Aakylah Redfox, and Cady Wilcox. Team A placed 15th-Kaile Grammer, Tahveya Matt, Devon Verlanic, Paige Bakich, Whitney Gotfredson. On the written test, awards are given for the top 8 scores in each grade level. Individual award winners for the written test were: Senior, Zadeea Graham 5th. Juniors, Luke Smith 2nd, Sophia Blanchard 5th. Sophomores, Slade Toscano 3rd, Cady Wilcox 6th, Devon Verlanic 8th. Freshman, Ava Stenulson 2nd, Jenna Batie 3rd. Team C took 4th in the oral rounds and Team A took 6th place. Special thanks to Miles City Community College, Mid-Rivers Communications, and The South East Montana Association of School Superintendents for supporting Academic Olympics.
Curriculum Director News: Congratulations to the Frank Brattin Middle School Academic Olympics teams! 106 middle school students on 18 different teams competed at the March 7th Academic Olympics competition at Miles Community College. 8th grader Brand Melin had the highest score on the 100-question written test, receiving a medal and a plaque. Peyton Batie scored 7th place in 7th grade, Zaiden Staples scored 8th and Arthur Sweet scored 11th place. Kimberly Areneson was the top scorer in the 6th grade and 6th overall for the 6th, 7th, and 8th grades. FBMS B team scored 2nd on the written exam as a team and placed 3rd overall in the buzzer rounds. FBMS team B members were Brand Melin, Sienna Gardner, Addy Vincent, Peyton Batie, Arthur Sweet, and Kimberly Arneson. FBMS A team made it through several rounds of the buzzer competition but was unable to place. These members were Nate Sessions, Blake Toscano, Keenan Steere, Zaiden Staples, Maddie Terrett, Amareese Violett, Jaeleah Harris, and Tessa Stroop. Special thanks to Mrs. Cunningham and Miss Briggs for reading and timing and supporting the team. Thank you also to the SE Montana Association of School Superintendents (SEMASS) and Mid-Rivers Communications for supporting this event.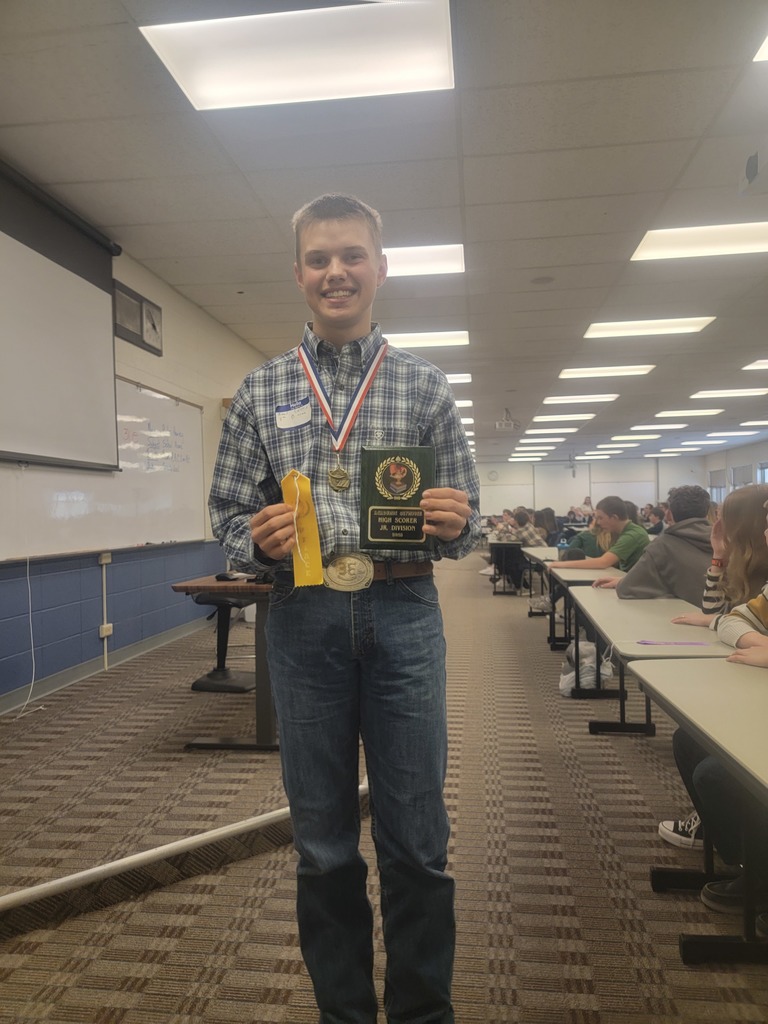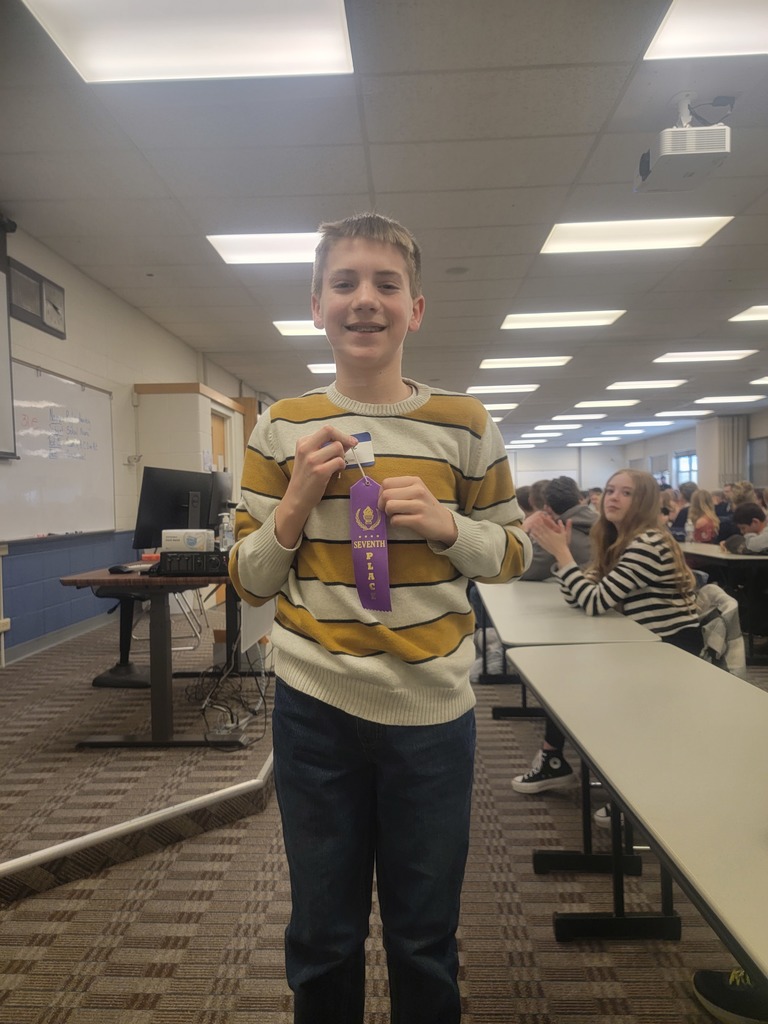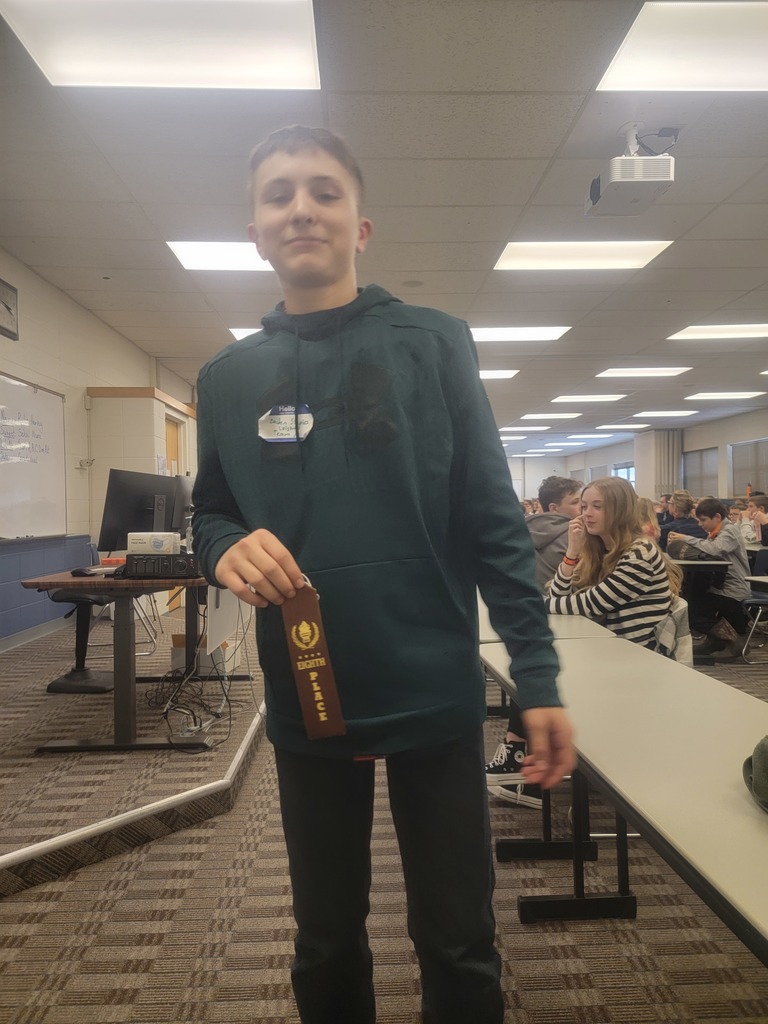 March 10 2023 Friday Early Release: Elementary 8:15 AM- 2:30 PM FBMS 8:10 AM - 2:45 PM CHS 8:05 AM - 2:35 PM

CPS Spring Sports- High School Spring Sports start Monday March 13th. Middle school spring sports start Monday March 20th. Please make sure your athlete has their Physical and dragonfly paperwork done before the athlete starts practice. If they have done a fall or winter sport, that paperwork will cover their spring sport. If you happen to have questions please let us know. Andrew Torgerson, AD
andrew.torgerson@colstrip.k12.mt.us
406-740-0862