PBES News! TURKEY BINGO When: November 16th Where: PBES Cafeteria Time: 6 p.m. to 8 p.m. Bring a canned good for admission to play BINGO and have a chance to win a Turkey every 15 minues!

State volleyball— Fillies beat Choteau in 3. Advance to the second round and play the winner of Bigfork and Shepherd. Go Fillies!!

CPS Transportation-- Winter is upon us. Therefore, this is a reminder that during the winter months students need the proper clothing to ride the bus. Students must have a winter coat while riding the busses for routes and activities. It is recommended also that students have proper winter shoes, (no sandals), hat, and gloves with them as well.
FBMS Parent/Teacher Conferences will be held on Wednesday, November 9 and Thursday, November 10 from 4:00-7:00 PM. Please use the North parking lot/Bus Loop and enter doors 9 and 10. No appointments are needed. Drop ins are welcomed! See you then!
Parent Teacher Conferences Wednesday November 9 2022 4 PM - 7 PM Thursday November 10 2022 4 PM- 7 PM No School Friday November 11 2022

Divisional volleyball— Fillies take 3rd place at the Southern divisional tournament. Fillies advance to the state tournament in Bozeman and will play Thursday Nov. 10th at 2:00 pm. Go Fillies! Nice work!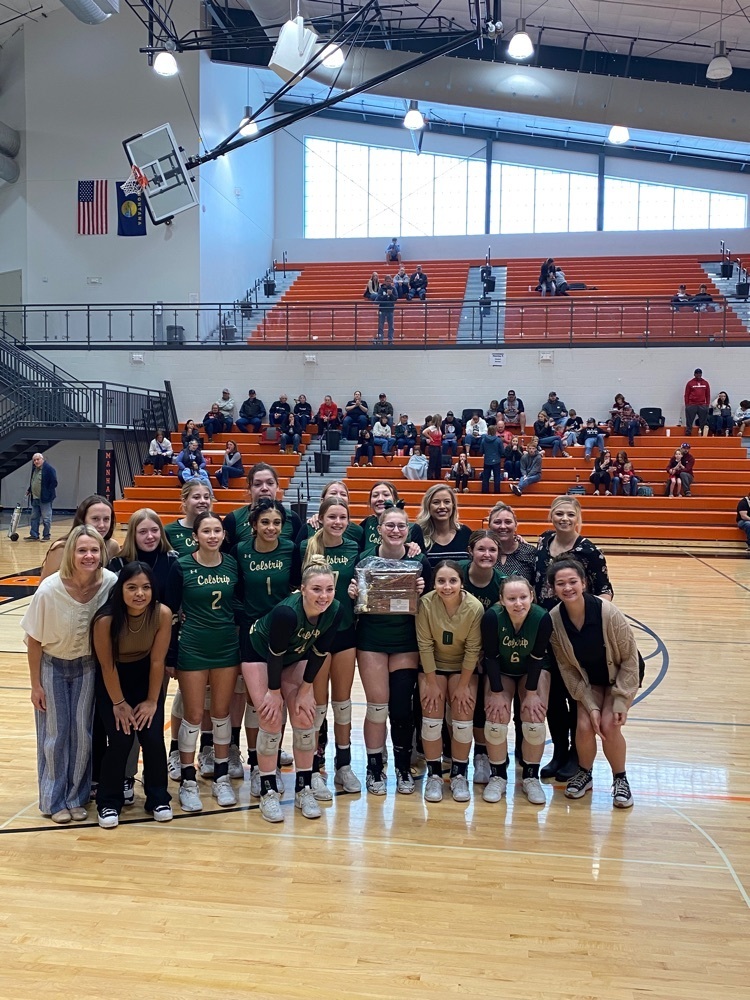 Divisional volleyball— Fillies win in 4 sets against Townsend. Will play Shepherd next for the 3rd place game. Go Fillies!

Divisional volleyball— Fillies advance to tomorrow morning vs Townsend. Fillies also punch their ticket to the state volleyball tournament next week! Nice work Fillies!

Divisional volleyball— Fillies lose in three sets to Shepherd. Fillies will play Baker after the Jefferson Townsend game tonight. Approximately 7:00 pm. Go Fillies!
Dress up for Native American Week...ALL SCHOOLS!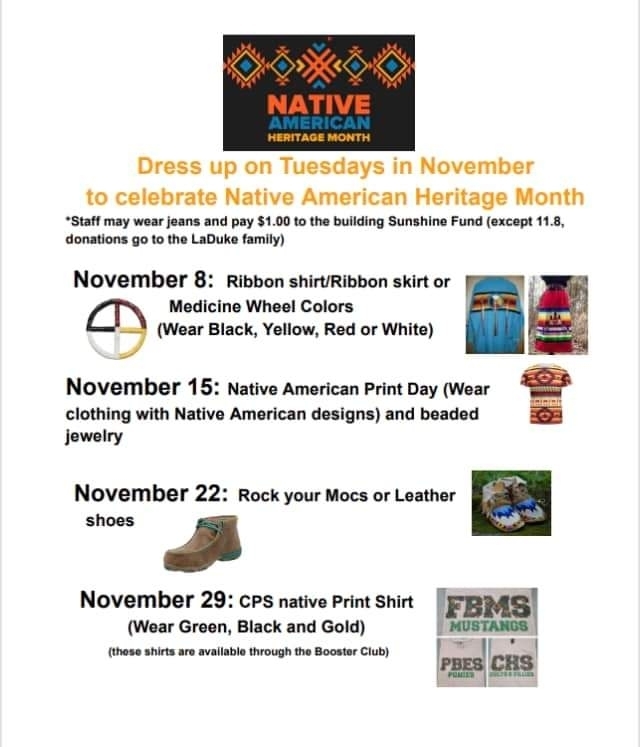 Divisional volleyball— Games are behind schedule. Fillies 2:30 pm game is just starting warmups. Go Fillies!
FBMS staff and students can Dress up on Tuesdays in November to celebrate Native American Heritage Month. See the list attached for what to wear.
November 4 2022 Friday Early Release: Elementary 8:15 AM- 2:30 PM FBMS 8:10 AM - 2:45 PM CHS 8:05 AM - 2:35 PM

Divisional volleyball— Fillies win in 4 against Redlodge. Advance to the next round and play Shepherd Friday at 2:30 pm. Go Fillies!
NJHS food drive competition starts tomorrow! Donation boxes will be in A31. Donating time will be 8:00-8:15. Please place your donations in your grade-level section and choose a Cat or Griz box! There will be a grade-level winner and a Cat/Griz winner. Items will be counted and winners will be awarded on 11/21.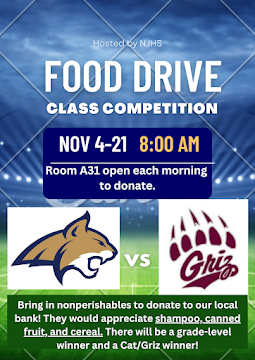 Divisional Volleyball— Colstrip Fillies will play RedLodge at 4:00 pm today. Go Fillies!

Divisional volleyball information is posted on the news feed. Fillies will play winner of Whitehall and Red Lodge at 4:00 PM Thursday 11/3. Go Fillies!

FBMS Wrestling- Start time of the middle school wrestling mixer in Red Lodge has been moved up to 2 pm start time. Go mustangs!
F.B.M.S. Staff having fun at Halloween! Check out our costumes!



FBMS Athletics— Good luck to middle school girls basketball playing in the home jamboree today. Also good luck to middle school wrestlers as they travel to Shepherd to wrestle today. Go Mustangs!